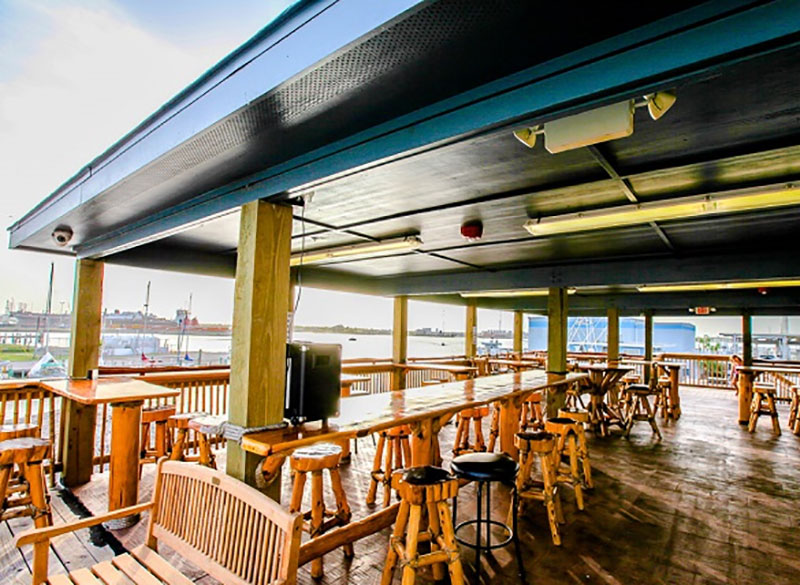 Marina Bar & Grill
https://www.facebook.com/GYBMarinaBarandGrill/
Hours of Operation:
Sunday through Thursday 6am to 9pm
Friday & Saturday 6am to 11pm
Call 409-765-3033
You do not need to be a member of the marina to eat at the Marina Bar & Grill at Galveston Yacht Basin.  Pull into the marina and take a left and follow the parking lot down to the water where you will see the Marina Bar & Grill.
Come enjoy great food, drinks and a beautiful sunset on our open air decks at Galveston Yacht Basin's Bar & Grill.  Join us for beer, wine, specialty drinks, appetizers, tacos, salads, burgers, sandwiches, wraps and so much more.  We even have a kid's menu.  Try out the fish tacos, shrimp basket, gator bites, shrimp kisses, fresh catch plate, or the shrimp poboy.  Finish off your delicious dinner with key lime pie or double chocolate cake.
Make sure to follow us on social media for food and drink specials.  Call ahead to make reservations for events.
REVIEWS
"Such a relaxing atmosphere! The food is always great!"  – Tamara
"Food was yummy and our waitress, Renee, was exceptional! Thank you for such great & friendly service! And the view was spectacular!"     – Treva
"Great spot for sunsets and cold beer."    – Chris
"A great place to relax with fantastic food and drinks with friendly, fast service. It's fun to sit near the water and watching all the boats come in and out. I'll be back for sure!"  – Erik
"Food was delicious the scenery was even better."   – Barbara
"Delicious food! Service was great and staff was very friendly! The view is just a bonus!"
– Angie
"Awesome place and great staff!!  A must visit for your trip to Galveston."  – Nathan
"I had a wonderful time here! Food, drinks, and service was fantastic!"   -Trey
"Really good fish and chips, great atmosphere and service."  – Terry
"We went fishing and they cooked the fish we caught. As long as it's cut and has no skin on it they will cook it for you however you'd like. We had it beer battered and it came with fries."  – Aaron